Lesley: My Firefox Faves!
Everyone knows that one of the best things about Firefox is the huge number of add-ons there are to, well, add on.

Unfortunately, there are thousands of them; many of which are either useless or imitations of add-ons that are a million times better. So I thought I'd share some of the add-ons, or more specifically extensions, which I find really useful.



The first, and most important of which is TabMix Plus. This extension allows me to modify the use of tabs in Firefox tosuch an extent that when I use Firefox on other people's computers, it feelslike theirs is a different browser altogether. There are quite a few featuresthat Tab Mix Plus bundles together, so I'm dedicating this entire entry to it and will be posting a subsequent entry listing the other extensions that I use.

Here's a list of some of the features that I like:


Opens new tabs next to the most recent tab
The beauty of this is that when you click on a link, the tab doesn't get openedall the way at the other end of the tab bar but right next to the originatingwebsite. This works to organise your tabs so that you don't have to go hunting for tabs, which becomes an especially big nuisance if you're like me and tend toopen new tabs for everything.
An example of when this is useful is when you're at a blog and want to commenton an entry but, at the same time, also want to continue reading the other entries. This function puts the comments tab right next to the originating blog,thus ensuring all the relevant tabs remain together.
>
Opened bookmarks appear with their bookmarked names.
This is useful because it's hard to remember both the title of a page and what you've bookmarked it under. Also, sometimes (especially with blogs), the titles of sites don't really have anything to do with the actual content, making it doubly hard to remember what's what. In other words, when you've got 10 tabs out, and you're searching for your friend Amanda's blog, it's so much easier to simply look for "
Amanda's blog
" on your tab bar rather than having to search for a completely unrelated and inane blogtitle like
happy fun is fun.
Also, the title on top of the window gets renamed.
Adds a close button to each tab
With it, you don't have to select a tab each time you want to close it.
Everyone makes mistakes, and sometimes I close the wrong tab. Which is no biggie because I have the option of reopening an accidentally closed tab.
Prevents blank tabs from opening when downloading files.
This is more of a mac problem. But not with Tab Mix Plus!
Clicking on a bookmark automatically opens it in a new tab.
When you think about it, the conventional way of having to open 5 blank tabs,then opening a bookmark in each one is pretty silly. So, because each bookmark opens up a new tab, you no longer have to go searching for unused tabs to open abookmark in or, as I said, open a new tab just to open a bookmark inside it.This makes things so much easier and convenient.
Customise your tab word colours.
This feature isn't that important to me, but for those of you who feel limegreen words are necessary, this extension is for you. Also this is handy as youcan customise the look of seen versus unseen tabs, in order to ensure you don't miss out on a tab by making all unseen tabs bright red.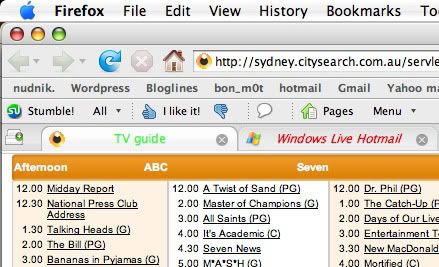 Sure there are other tab-related extensions that perform some of the functions I've listed here, or extensions that perform other functions that Tab Mix Plus doesn't, but as far as I'm concerned, this extension does all but one important thing. Which I'll be covering, amongst other things, in my next post!